Today's Sunday Spotlight featured Irina of
Miracle from Threads
. Please take some time to learn more about this fiber artists and her amazing work!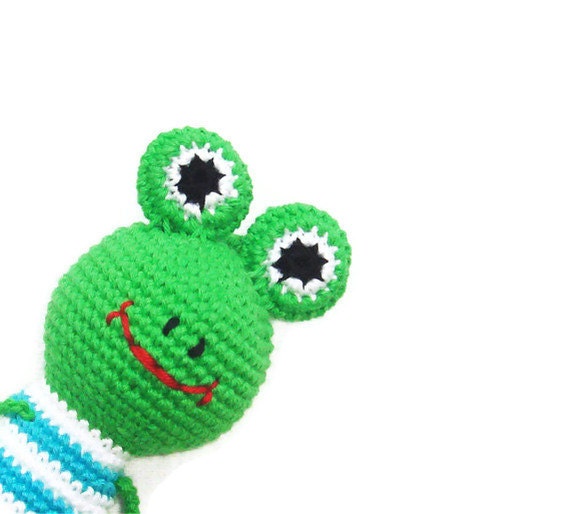 Funny Frog rattle
My name is

Irina

, I am 29 years old. I have a son, Kirill. It was after the birth of a child I started doing nursing necklaces, rattles and teething toys. I want my child to surround quality toys made from natural materials. It's so i
mportant! I do nursing necklaces from cotton / linen yarn and unfinished wooden beads of different kinds of wood. When I make a necklace or a toy I put to a piece of my soul and love. And baby feels it better than anyone.
As my son grows, I understand that he needs to develop and began to appear more sophisticated toys. And together we come up with the game and we think who still need to play. Or what is safe to dress up the Christmas tree and the house.
My son is the engine that drives the creation of something new and interesting. It's so wonderful that you can chew on a machine - the machine teething toy. Or the elephant in the mommy beads, which a child can pull the trunk or ears, or to tell mum that elephant has. Or safe flower-bracelet for a newborn baby.
I like my beads and toys different: strict and funny, with amusing suspension or having a lot of threads. After all, we are all different. I want that everyone could find yourself something especial!
I also realized that I can make cute gifts for my family and friends. So I started making jewelry for women and girls. Toy animals, I give men in the car as car charm. After all, they have a different color and cheer up! This is a unique gift for the person! After all, every toy has its own character and is suitable for a particular person.
Sometimes I do things in order for specific mother or child. I ask tell what she wants, what color. I do sketch product and together we are discussing it. I will communicate with the buyer and I really like it. Obtained a completely unique personalized jewelry or toy. In which already a little is seen by the owner. In these cases, I put a cute gift in parcel, sometimes doing a discount.
For example:
As a special offer to my readers, Irina has offered a valid coupon for a 5% discount, good through the end of July - Coupon Code - FORYUO.