I just love candles. Even before I began making and selling them, I've been attracted to the warmth and fragrance they bring into a home, even when not lit. Simple decorations made from candles and other household items can make classic table displays.
I routinely pin decorations I'm inspired by on my "Decorating with Candles" board on my Pinterest site. Here are a few of my favorite table displays:
Invert goblets over your favorite flower and place a pillar on top.
For a shabby chic look, add a wooden cracker tray and add tissue flowers.
For a romantic look, place tea lights in a votive holder with rose petals. Be sure to sprinkle rose petals over the table.
While this is a festive look for the holidays, adding ribbon to clustered pillars can create a colorful look anytime.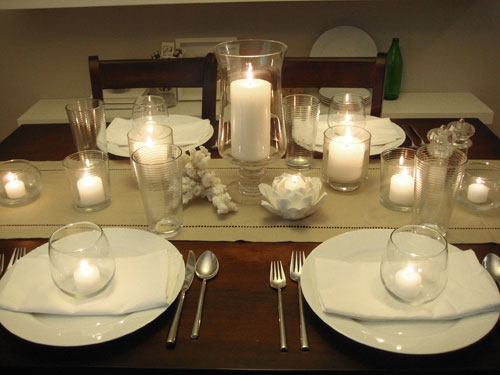 Place tea lights in votive cups atop a napkin and dinner plate.
These simply classic designs make me want to clear off my dining room table and begin decorating right away! I hope you're equally inspired.